Express Checkout is an expedited process that allows residents to deposit their room key(s) to a secured location during business hours, overnight, and weekends through Closing.
While all residents will be completing an Express Check-out, Housing is asking all residents to sign-up and indicate the intended day and time they will be moving out of their housing assignment.
Residents must sign up for a move-out appointment at least 24-hours in advance of their planned departure. They can sign up for their preferred time on the home page of the My Housing portal.
This check-out appointment is not an inspection appointment, but instead a means of tracking who remains in the building throughout closing.
Location information for Express Checkout envelopes will be available with your move-out appointment instructions in the My Housing portal.
Residents can return their keys to Housing Area Offices during their business hours, or at the key-drop location noted with your move-out appointment on My Housing.
Here is Step-By-Step Instructions on completing express checkout.
1. Once your room is clean and emptied out, go to your RA, Hall Director, or area office to get and fill out your Express Check-out envelope.
2. Fill out the information fields COMPLETELY
A - Name/GT ID#

B - Building/room

C - Key Code(s)

D - Date/Time of Departure

E - Signature and date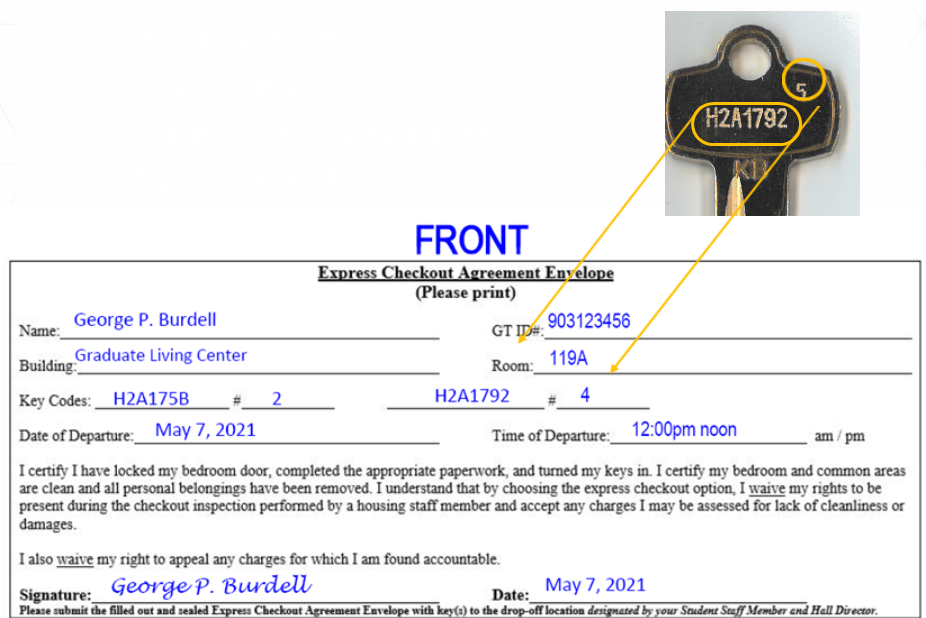 Make sure you complete each item listed on the back of the envelope.
Once the form is complete, put your keys in the envelope and drop it off at your key-drop location

. If you are missing keys, indicate "missing" on the form.

Any remaining questions? Connect with your RA,

Hall Director

, or visit

housing.gatech.edu/move-out

.
Prepare your room for the checkout inspection using the checklists for traditional halls and apartments.